Twilight Zone 50th Anniversary Reunion
The Hollywood Show
October 10 & 11, 2009
Burbank Marriott Hotel Convention Center
Burbank, California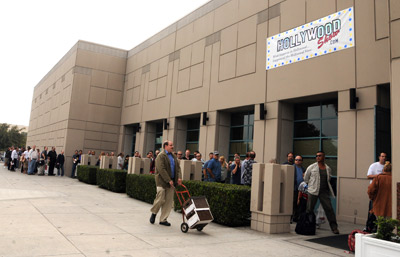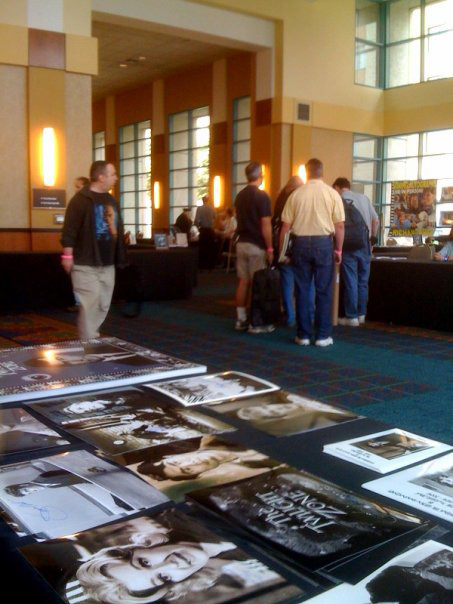 My dealer table - offering a bit of my Museum inventory for sale. There's more where this came from!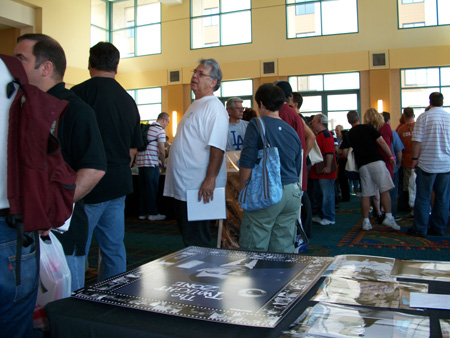 The legendary actor and later director Jackie Cooper (sometimes known for his TZ appearance in the episode "Caesar and Me") had a continuous line of fans from 10 am to 5 pm...and his fans waited for an hour until he returned from lunch. Jackie signed thousands of items over the course of the day and donated the autograph fees to the Motion Picture Retirement Home.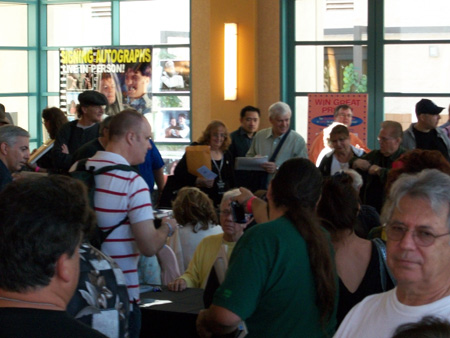 Jackie Cooper's loyal fans stood in line waiting for him to return from his lunch hour!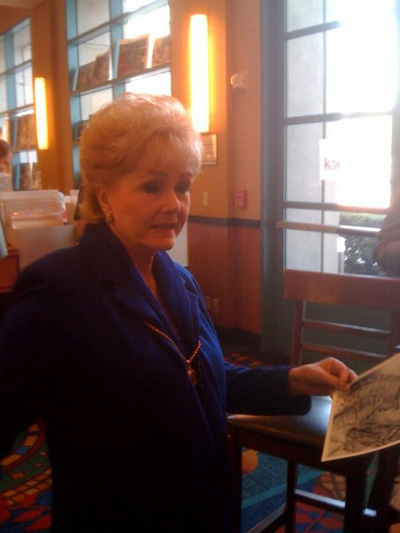 The legendary Debbie Reynolds came for awhile on Saturday to sign autographs and talk with her many fans.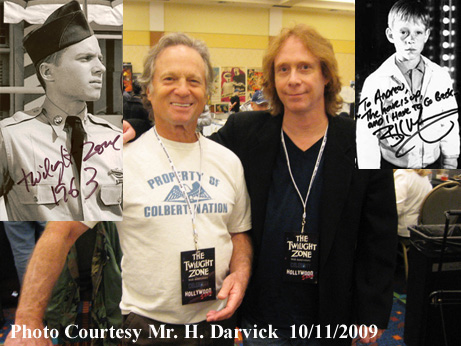 Robert "Bobby" Diamond and Bill "Billy" Mumy, the older and younger Pips, respectively, of the 5th Season episode "In Praise of Pip". Bobby and Bill shot their scenes separately at the now-obsolete Pacific Ocean Park in the summer of 1963. 46 years later, they met for the first time!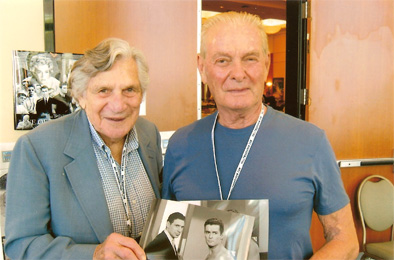 Noah Keen and Edson Stroll, with photo from their episode "The Trade Ins." Now into his 80s, Edson looks almost as he did 50 years ago!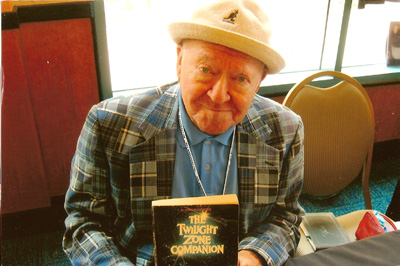 Veteran character actor - the inimitable Richard Erdman, sometimes known as McNulty of "A Kind of a Stopwatch".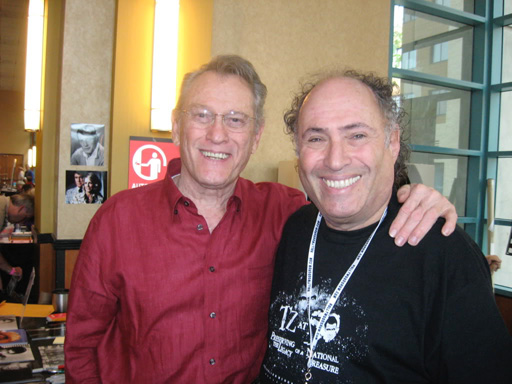 Earl Holliman and loyal fan Herman Darvick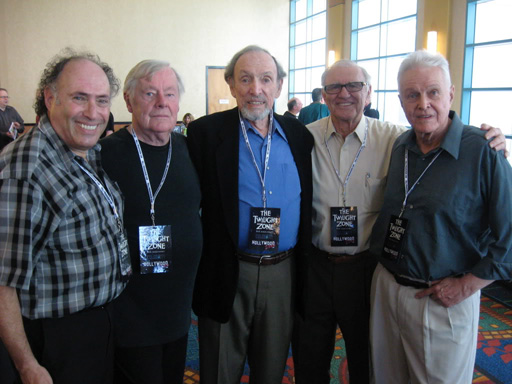 Michael Vandever (Smitty of "The Purple Testament"), Joseph Ruskin ("The Man in the Bottle", "To Serve Man"), Paul Comi ("People Are Alike All Over", etc.), and William Reynolds (Lt. Fitzgerald, "The Purple Testament") with loyal fan and two-time TZ Convention promoter Herman Darvick.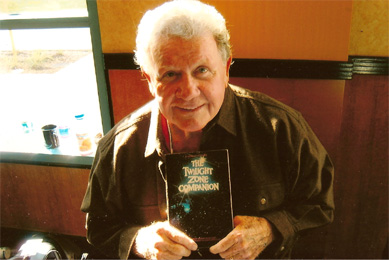 Chuck Hicks, legendary stuntman, and The Maynard Flash of "Steel"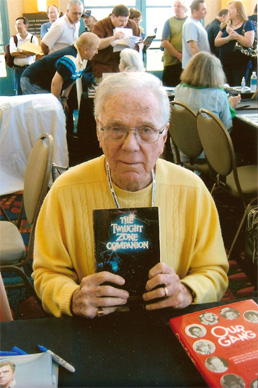 Jackie Cooper displays a fan's copy of M.S. Zicree's "Companion"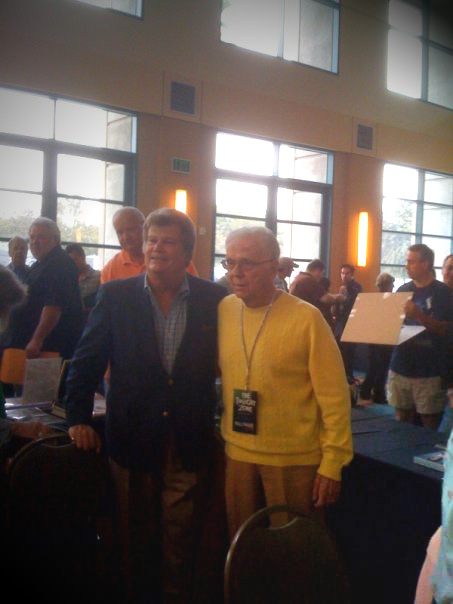 Jackie Cooper with one of about 2,000 fans who showed up on Saturday to see him!




Jackie Cooper had a nice selection of photos from his vast career on display.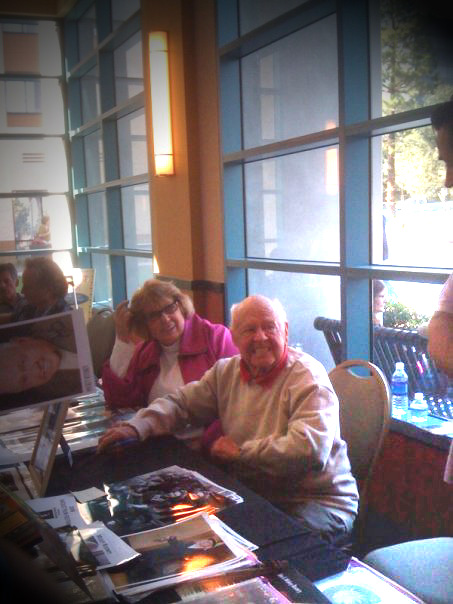 The great Mickey Rooney with lovely wife Jan Chamberlin. Mickey sometimes says, "Hollywood is just a memory...a sign on a hill."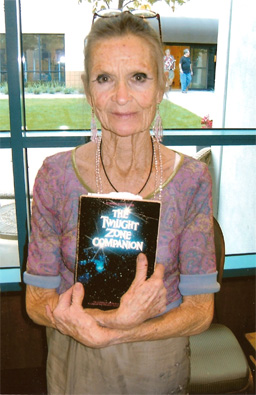 Susan Harrison is a graduate of New York's Performing Arts High School, the school on which the movie "Fame" was based. A great beauty in 1961, she played the ballerina in TZ's "Five Characters in Search of an Exit" and got top billing for her performance opposite William Windom!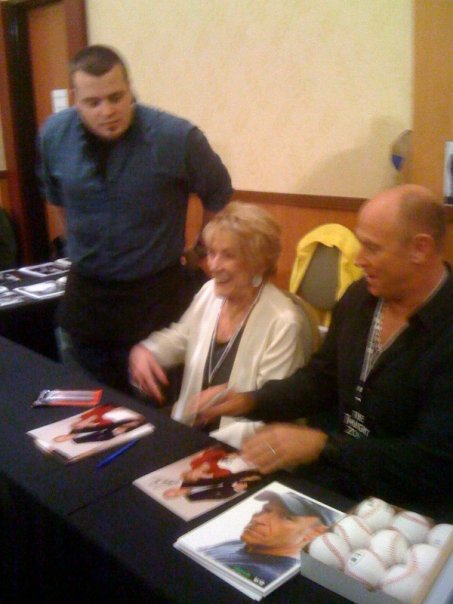 Jeanne Cooper and Corbin Bernsen, mother-son duo, made their first Los Angeles autograph show appearance. Jeanne will forever be known to zillions of soapwatchers as Katherine Chancellor-Sterling on "Y.R." which she has played for over 35 years, but her role as on TZ's "Mr. Denton on Doomsday" holds an equal place on the mantle.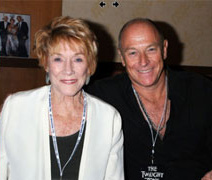 Jeanne Cooper and Corbin Bernsen - two of the hardest working actors in town.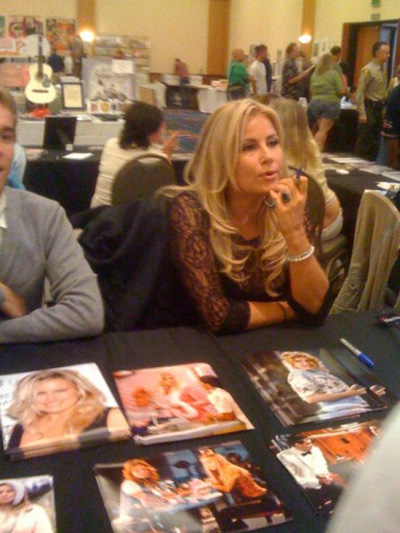 Jennifer Coolidge, one of Hollywood's great beauties, makes her autograph show debut. She's best known for her three brief but extremely memorable appearances in the "American Pie" movies as Steve Stifler's Mom (and yes, she had a name - Janeen!)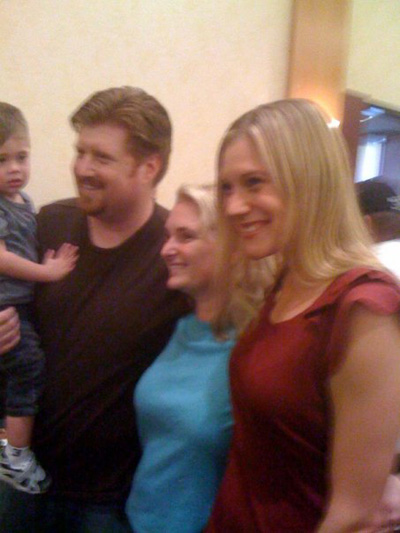 Katee Sackhoff, one of Hollywood's finest young stars, late of "Battlestar Galactica", with family.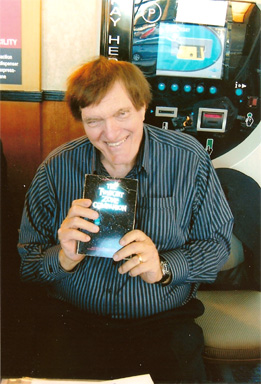 Richard Kiel, of James Bond fame...and Twilight Zone fame. He played the Kanamits...who came to Earth for the purpose of Serving Man.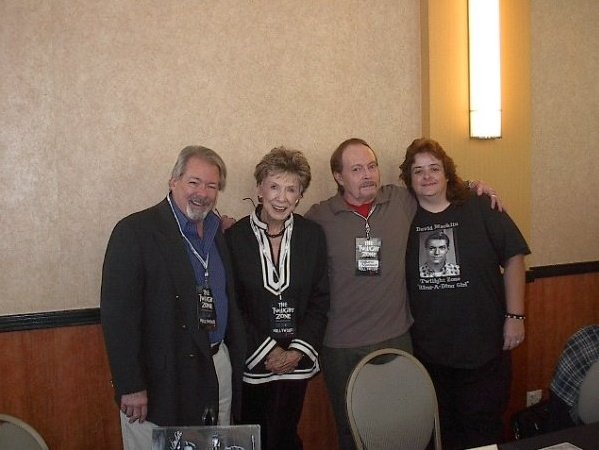 Tom Lowell ("The Changing of the Guard"), Mary Gregory ("The Shelter", "The Lateness of the Hour", "Monsters are Due"), David Macklin ("Ring a Ding Girl"), and David's incomparable manager, Donna. These three actors are very old friends.... Tom and David used to be up for the same parts. Tom recalled that David got most of them because he was so dashingly handsome!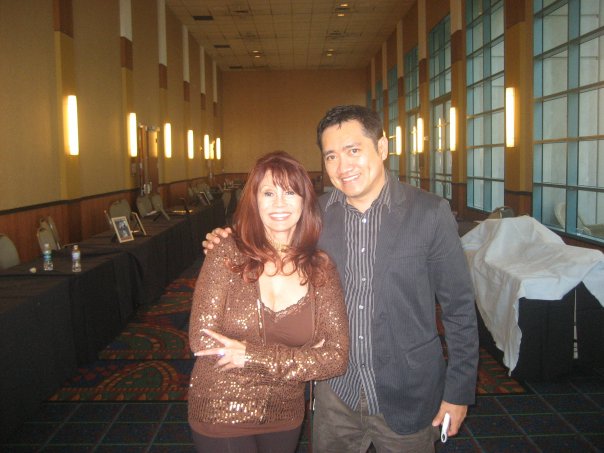 BarBara Luna made her usual stop by the Hollywood Show to visit her old friends...and sign a few autographs for fans.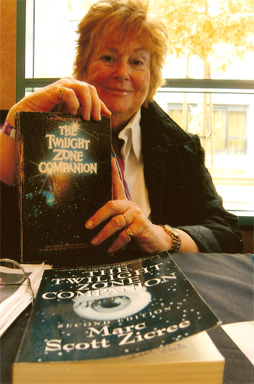 Nancy Malone, legendary television director and actor, was able to stop by for awhile on Sunday...and say hi to her old friend Earl Hamner, who wrote her episode "Stopover in a Quiet Town".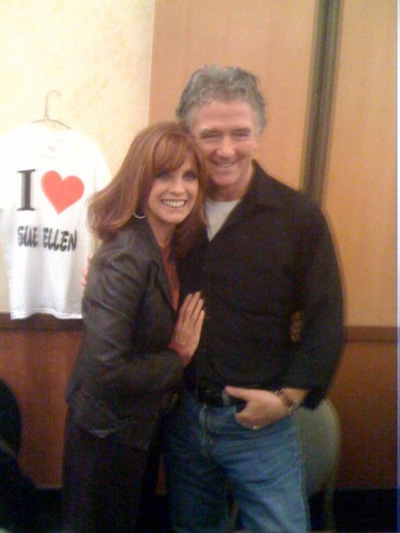 "Dallas" reunion - yep, Sue Ellen and Bobby Ewing, better known as Linda Gray and Patrick Duffy. And they're far nicer in person than they ever were on screen. Linda had a lot of Sue Ellen memorabilia, including t-shirts. Let's face it...Sue Ellen was the greatest slut in all of television history.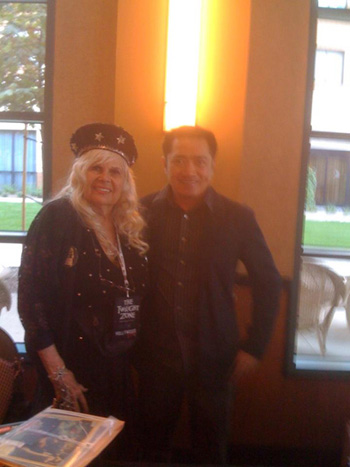 Gloria Pall and loyal fan!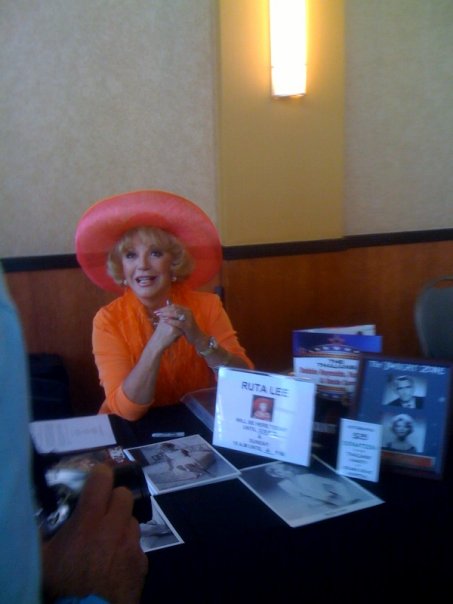 Ruta Lee has worked in Hollywood for over 55 years. Her most prolific time was in the late 50s and early 60s where she guested on nearly every television program on the dial...including TZ, where she played the inimitable Flora in "A Short Drink from a Certain Fountain"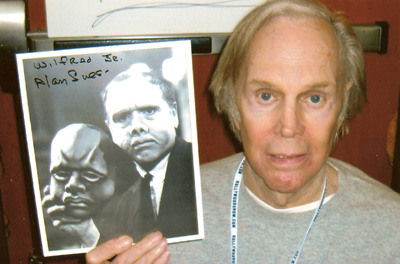 Comedian Alan Sues, of "Laugh In" fame, did some drama on TZ's "The Masks" as ingrate Wilfred Harper, Jr. At age 84, he's still laughing it up!


PHOTOGRAPHY BY J.M. PANES and JOSEPH WALLISON